Menu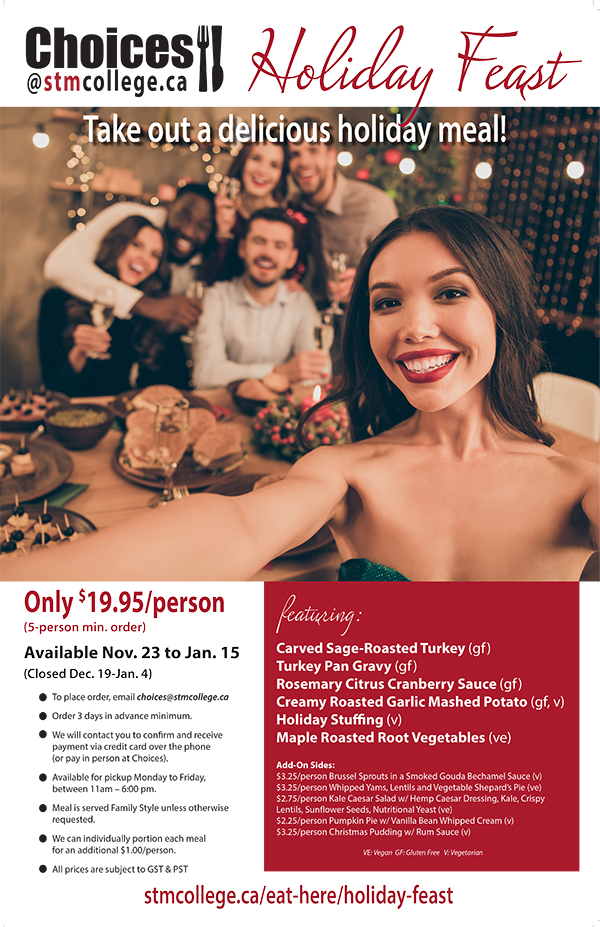 Featuring:
Carved Sage-Roasted Turkey (gf)
Turkey Pan Gravy (gf)
Rosemary Citrus Cranberry Sauce (gf)
Creamy Roasted Garlic Mashed Potato (gf, v)
Holiday Stuffing (v)
Maple Roasted Root Vegetables (ve)
Add-On Sides:
$3.25/person Brussel Sprouts in a Smoked Gouda Bechamel Sauce (v)
$3.25/person Whipped Yams, Lentils and Vegetable Shepard's Pie (ve)
$2.75/person Kale Caesar Salad w/ Hemp Caesar Dressing, Kale, Crispy
Lentils, Sunflower Seeds, Nutritional Yeast (ve)
$2.25/person Pumpkin Pie w/ Vanilla Bean Whipped Cream (v)
$3.25/person Christmas Pudding w/ Rum Sauce (v)
VE: Vegan  GF: Gluten Free   V: Vegetarian
Only $19.95/person
(5-person min. order)
How to Order
Available Nov. 23 to Jan. 15
(Closed Dec. 19-Jan. 4)
- To place order, email choices@stmcollege.ca
- Order 3 days in advance minimum.
- We will contact you to confirm and receive
payment via credit card over the phone
(or pay in person at Choices).
- Available for pickup Monday to Friday,
between 11am – 6:00 pm.
- Meal is served Family Style unless otherwise
requested.
- We can individually portion each meal
for an additional $1.00/person.
- All prices are subject to GST & PST